FEEL THE ENERGY
at
Indy Dance Academy
Indy Dance Academy is conveniently located at 96th Street and North Meridian Street, Indianapolis. Come in and tour our state of the art facility and meet our talented staff!
We offer several styles of dance instruction including Ballet. Jazz. Musical Theatre. Tap. Pre dance .Modern. Lyrical. Contemporary. Hip Hop. Jazz Fusion. Mommy & Me  for the dancer ages 18 months through adult.  Please go to our class information and registration for class days and times offered this session.
Be Nspired! Dance your way to a healthy you!  Join our dance inspired fitness program, Zumba. Piloxing. Cardio Dance. offered several times throughout the week for ages 13 through adult. Please go to Adult Cardio Dance section on website for class pass specials and schedule.
For the committed youth dancer we have Indy Dance Academy Company, ages 5-18 years of age who train in Ballet, Jazz, Contemporary and Modern. As well as Indy Dance Academy Team, who train in Jazz and Hip Hop. The guys and gals grow through their dance education and further their skill set in order to compete and perform throughout the nation.
For parties and studio rental rates, please review our website and call 317.218.3694 to book your space.
Indy Dance Academy would like to thank their annual partners! If you are interested in becoming a partner and hearing the benefits of our partnership opportunities with Indy Dance Academy, please call the studio!
---

Glamorama Recital 2014: Sat. May 17th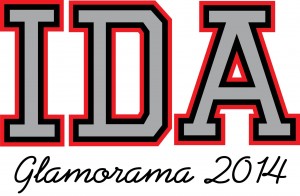 at Westfield High School (18250 N Union Street, Westfield, IN 46074). There will be 3 Acts throughout the day 1:00pm/ 3:30pm/ 6:00pm. Please see Recital Glamorama Packet 2014 for detailed show and dress rehearsal information.
To Purchase Tickets:
Please visit: Tickets will be available to purchase on Monday, April 21st
Dancer Individual Recital Photos:
Sign up to capture your dancer's special day! Click Here to schedule your dancers individual recital pictures.
Join IDA on Friday, April 25th for our Dance Party from 5:30-7:00pm with special guest performances from IDA's youth competition company and team. Ages 3-16. RSVP Below!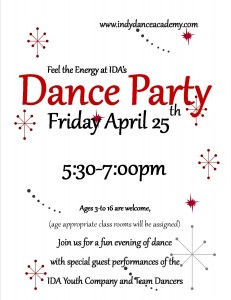 Summer Registration is now online! Visit our register for classes page for class days, times, and prices. Sign up for your favorite Summer Camps, Classes, and Clinics!
Summer 2014 Camp Special: Register for all 3 camps for $370  — $50 Savings!

Hip Hop Dance Crew: June 23rd – June 27th

Bring your energy and your latest dance moves to IDA! We will incorporate tumbling, line dances, and the latest dance moves into fun dance routines!

Fairytale Princess Ballet: July 14th– July 18th

Make believe you are Cinderella or Belle as you  dance to music from your favorite Disney classics!

Glitz & Glam Dance Stars: July 21st – July 25th

Grab your feather boa and be fabulous at IDA 's most glamorous camp. We will incorporate jazz, musical theatre, and hip hop dance while you be the star of the show
"Step up your game with dance lessons"- check out the nice write up from Angie's List: http://www.angieslist.com/articles/use-list-learn-new-skills-try-cooking-music-or-dance-classes-indianapolis-area.htm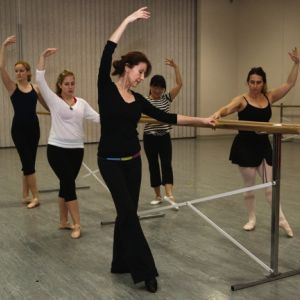 IDA is now accepting resumes for Zumba and Piloxing Instructors and Ballet instructors with pointe experience. Please send resume to stefanie@indydanceacademy.com
Like us on Facebook to receive Specials and Promos! www.facebook.com/IndyDanceAcademy
PARTNERS
Elite
Perfect Platinum
Platinum